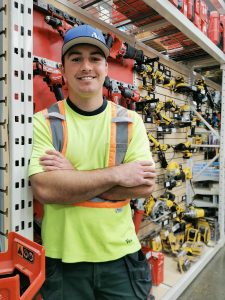 Jeff Sakundiak
Jeff is easily recognizable, just look for the guy with the big grin on his face working in the lumber yard. He's always happy to help you with what you need and is always willing to go the extra mile for customers. He was born and raised here in Vegreville. He started with the company through Vegreville composite high school's work experience program as a 16 year-old, and has been with us ever since. His work ethic, drive, positive attitude, and customer service skills make him an irreplaceable member on our team.
When not at work, Jeff enjoys spending time with friends and family, being outdoors, playing sports, reading, learning new things, and challenging himself to be the best person he can be in all ways.
Among his numerous goals and ambitions, Jeff is an aspiring entrepreneur and has high hopes of owning and managing a local company in the near future.